Gabion raised beds decorate every garden
---
With a gabion raised bed you can realise creative and exciting ideas in your garden. The stone baskets are modern and provide with different fillings at the same time for a natural flair. Gabions are real all-rounders from a design and practical point of view. For a long time, wire baskets filled with natural stone were only used as privacy screens, walls or for fixing slopes. But with a little creativity, gabions can be used variably and are therefore also becoming increasingly popular with hobby gardeners as raised beds. Hobby gardeners are increasingly using a raised bed for growing vegetables instead of a cold frame or greenhouse. A gabion raised bed adorns every garden. It convinces with its solid frame construction. Thanks to its height, it is easy to maintain, it successfully sets flowers and vegetables in scene. Even amateur gardeners can easily build and lay it out. In addition, the layer system in the raised bed always guarantees the best harvests.
Gabions are ideal for all hobby gardeners who prefer a stone coat for their raised bed. The gabion raised bed promises a clear shape that is robust and has a long service life of several decades. Built-in lighting or rock garden plants can visually loosen up the raised bed.
This is how the construction and maintenance of your own gabion raised bed can be successful.
Building a gabion high bed yourself is a relaxing experience thanks to the basic and extension baskets from the HS Gabionen-Shop. Simply follow the following practical tips for your own gabion high bed:
It is better to make your raised bed longer than wider so that the plants remain easily accessible. The usual diameter (for one-sided operation) is 1.0 metres and 1.5 metres for two-sided operation. The best time to lay your raised bed is in autumn or spring. At these times of the year there is a lot of natural waste in the garden, the nutrients of which are useful for the raised bed. The base on the ground is the close-meshed wire mesh of the gabions. This prevents voles and other rodents from penetrating. Then apply a layer of coarse components such as chopped branches from trees and shrubs. They ensure good ventilation in the bed. The layered material can thus rot better and faster. Spread garden waste, grass clippings and straw on top. This is followed by normal garden soil. The next layer consists of ripe compost, followed by high-quality potting soil for planting. Thanks to the good climate inside the raised bed, fruits and vegetables ripen faster and can be harvested more quickly, making room for the next sowing operation.
Although flowers also grow well in raised beds, they are usually planted with vegetables. For higher growing varieties such as tomatoes, beans, etc. we recommend our raised beds with a height of 0.5 m or 0.3 m - so that the fruits can be harvested at a pleasant height. Even with large species such as courgettes or pumpkins, be careful when planting in raised beds: you can drive out other plants. Basically, a raised bed is uncomplicated, because you can sow directly into the bed or place purchased young plants. High plants should be placed in the middle, low plants at the edge, so that everyone gets light.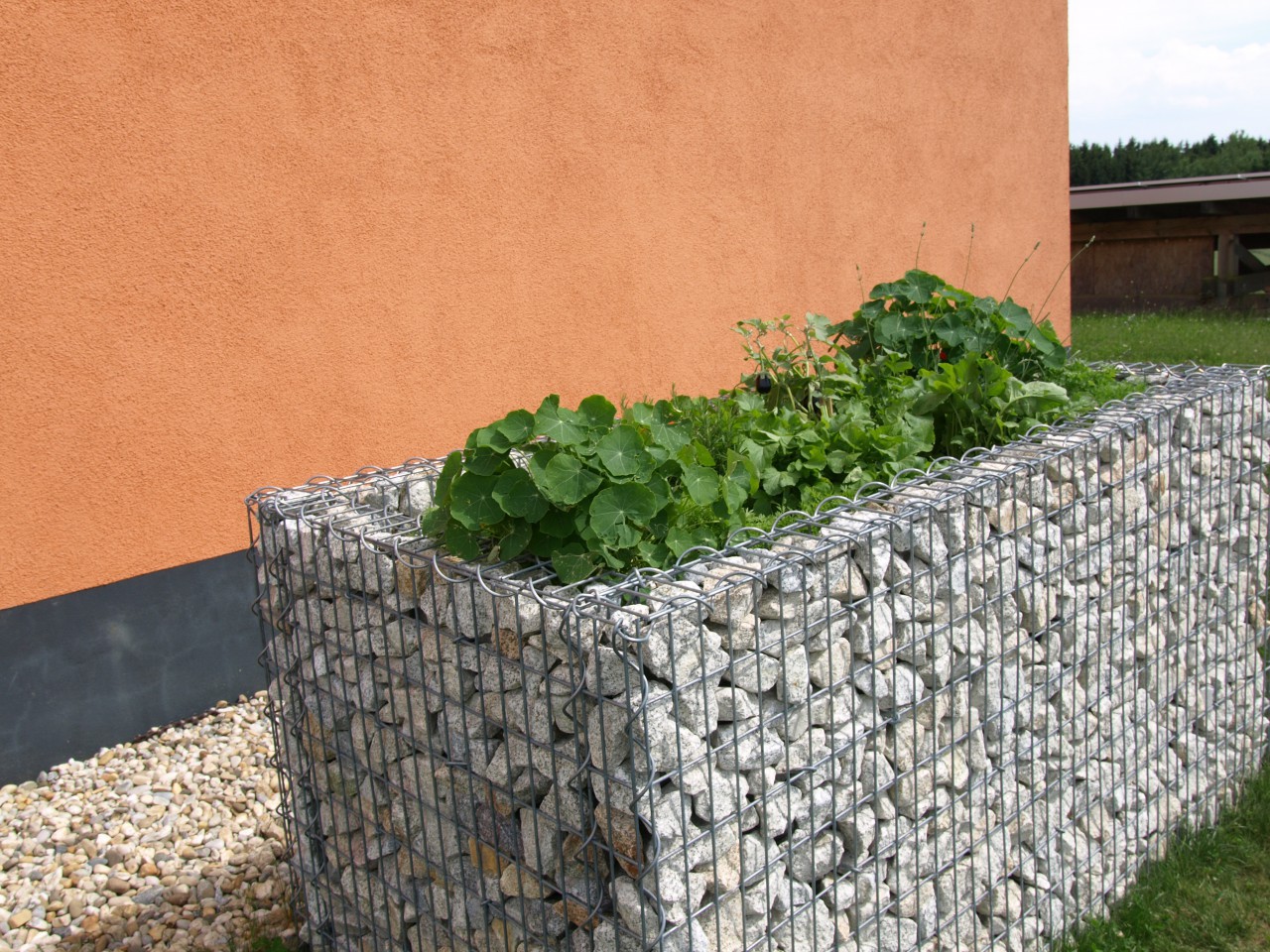 The right location for a raised bed facilitates later processing. Choose a sunny location in a north-south direction - this is the most effective way to take advantage of the sun's rays. The surface should be level, you should come to the raised bed from all sides. A nearby water connection or automatic irrigation is an advantage and makes work easier.
In time, your gabion raised bed will grow beautifully into the garden landscape. Grasses and wild flowers will grow on the gabion baskets. When choosing the filling material, there are no limits to the design possibilities. Stones and glass chunks are available in almost every shape, size, colour and pattern. Stones or glass chunks can also be selected and ordered in our shop. So you can build up your raised beds individually and design them according to your personal taste.
Checklist for setting up your gabion raised bed
With a gabion raised bed, a lot of attention should be paid to good planning:
First you have to choose a certain shape (square, rectangular, L-shaped, etc.). To do this, check the local conditions and stake out the base with pegs and a guideline. The soil should be removed about 10 cm deep.
You can then assemble the stone baskets. Always start with the inner gabion basket. The assembly is very simple and follows the modular principle. Take two parts that belong next to each other and connect them using the supplied spirals. You simply have to turn them in clockwise at the outer edges of the grid parts.
Once the inner basket is assembled, cover the inner sides (not the floor!) with fleece and fasten it to the upper edge with a few clothes pegs. Then insert the spacers supplied inside the basket. Simply make small slots in the fleece with a cutter knife and insert the spacers. This gives the inner basket more stability.
Then assemble the outer stone basket and connect it to the inner gabion basket using the spacers. This keeps the baskets in shape.
Now only the stones are missing from the gabion raised bed. It is important that the stones are not too small, otherwise they would fall through the meshes. The gabions can also be filled with glass chunks. They make the raised bed a real eye-catcher in the garden. Combine the glass chunks with the LED lighting from the HS Gabionen-Shop. When filling, always make sure that there are as few gaps as possible between the stones.
Now all you have to do is fill up the inner part and plant the plants. A raised bed always consists of five different layers. Fill it layer by layer as follows:

Wood waste (shrub and tree pruning);
Green waste, leaves;
Manure;
Mixture of soil and compost;
Nutrient-rich soil.
Now you can grow flowers, fruit, vegetables or herbs on your raised bed as you please.
Summarized: The advantages of a gabion raised bed are obvious. With a working height of 80 centimetres to one metre, it makes working pleasant. It delivers two to three times higher yields than a flat bed of the same size. It is difficult for vermin such as snails to get inside the bed. A gabion raised bed gives you the flexibility you need in terms of shape and size.
Therefore you are not only buying gabions for decorative reasons!