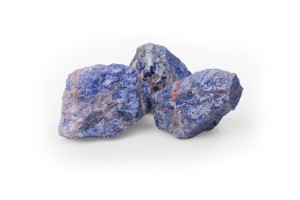 Exotic-Exclusive: The blue natural stone material promotes the sensual perception. The blue Sodalite is very rare worldwide and is mostly used in the jewelry industry. It belongs to the silicate and germanate class.
The Sodalite GS grain 60-120 gabion stones is available in the Big Bag delivery unit in various lot sizes 30, 250, 500, 750 oder 1000 kg. The rock or glass type is Sodalite. The Colour is Blue. The grain size is 60-120 mm, the requirement quantity 1.8 to/m³. At HS Gabionsshop you will always find the suitable product.
Product and delivery information:
Gabion filling material (gabion stones and glass rocks) may vary in shape, size and colour. The delivery is in unwashed condition: sand, loam and dust as well as oversize and undersize grain in the range of 15 % do not entitle to complaints. Rust efflorescence and subsequent corrosion of natural stones are not excluded. The filling material is measured at the narrowest point, so the actual size may vary slightly.
The delivery of filling material takes place within Germany (without islands) – carriage free - (only unloading). Delivery time usually takes 5 - 10 working days.
If you are absent during the delivery, you accept the unattended delivery of the product.
Similar products